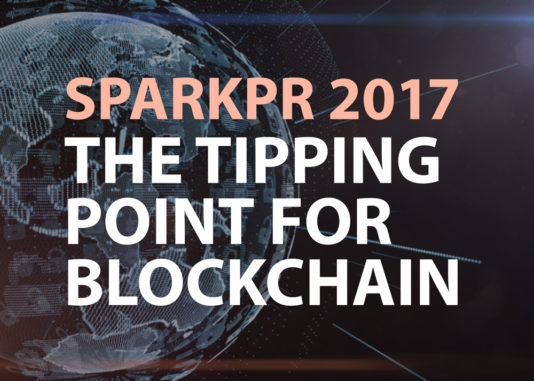 As we reflect on our company's progress this year and a company that has for almost 20 years sat at the forefront of digital transformation, we cannot help but notice the impact that crypto and blockchain technology has had on our company. As such, movement that demanded our attention early this year, appeared to be so disruptive that we strengthened and aligned our resources to establish Sparkchain: our dedicated cryptocurrency and blockchain technology practice. Along the way, we witnessed the parallel growth, widespread adoption and tremendous changes in an industry we've ridden side-saddle with since Sparkchain's inception.
During this past year, we have partnered with over 20 blockchain companies to reach ambitious business goals, communicate important missions, build reputations and networks of influence and assist in fundraising of more than $400M for innovative projects.
Our clients' proprietary solutions represent many blockchain use cases – from identity verification and protection, re-imagined PHR (personal health records), enhanced enterprise-grade security and infrastructure for DApps, to a mighty contender of the world's most famous e-retailer, to name just a few.   
Here are some worthy-to-mention developments and trends we've observed this year:   
The year of smart contracts
Smart contracts are the blockchain's killer app. Described as a "mechanism for creating a more collaborative economy," smart contracts – digital codes intended to facilitate, verify, or enforce the negotiation or performance of a contract – can execute complicated multi-party agreements securely and efficiently without the oversight of a central authority. From digital identity to payment processing, clinical research and land title recording, smart contracts can automate and reshape many business processes and operations.
The influx of capital to fund blockchain-related projects
Funding for blockchain companies has exploded this year. According to Coindesk, over $3.5 billion was invested in 2017 alone, and more than 75% of those investments occurred in the second half of the year. In fact, by mid-year, the number of funds raised by cryptocurrency and blockchain startups via so-called initial coin offerings (ICOs) or Token Generation Events (TGE's) eclipsed all angel and seed stage venture capital funding worldwide. It became clear in 2017 that these new innovative fundraising alternatives have begun to disrupt the venture capital community, and based on these trends the ramifications are just beginning to surface.
Regulations are tightening: The SEC begins to weigh in
With the explosive growth of funds being raised through ICO's, the U.S. Securities Exchange Commission has begun to establish a framework of guidelines addressing the legality of ICOs. Recently the Commision ruled that some digital tokens that were previously considered utility tokens are actually securities. These evolving SEC guidelines have created quite a stir within the blockchain and crypto community and, most recently, prompted one company to halt its ICO and return all of the $15 million of raised funds back to investors. The SEC issued a public statement that it will "continue to scrutinize the market vigilantly for improper offerings that seek to sell securities to the general public without the required registration or exemption…".
Blockchain is driving disruptive digital transformation
From reshaping fintech and property and health records management to innovating supply chain, healthcare, banking and insurance industries, among many others, blockchain will drive digital transformation by automation and digitization of processes, tokenization of physical assets and codification of complex contracts.  At the core of this transformation is the blockchain's distributed ledger technology, which is decentralized, immutable, and operates with no regard to international borders.
Broad adoption has begun
While many new companies have been launched based on blockchain technologies, there is an increasing number of established institutions investing in blockchain projects as well. For example, Walmart implemented two blockchain projects to track food products from suppliers to retail and ultimately to consumers to address food safety concerns. In the financial sector, U.S. banking leaders Goldman Sachs and J.P.Morgan Chase successfully completed a six-month experimental blockchain-based project for processing equity swaps involving aspects such as amendment and termination of operations, stock splits, and dividends.
But these industry giants only represent a small sample of blockchain initiatives. In fact, according to a study by U.K. research firm Juniper Research, more than half of the world's top corporations are investigating blockchain.
It has been a landmark year for Spark and Sparkchain, our rapidly growing blockchain, and crypto focused strategic communications practice. Whether you believe in cryptocurrencies or not, one thing is clear: blockchain technology hit its early stride in 2017. Companies with foresight and courage are now developing blockchain technologies to transform markets and industries.
As we gear up for the new year, we look forward to new clients, partners, and opportunities to shape, influence and lead industry conversations. We will continue to deepen our expertise and expand our talented team to support this transformation as we have for other disruptive technology advancements for nearly 20 years.
There are many more insights about blockchain we'd like to share and discuss – so stay tuned for our next blog post!